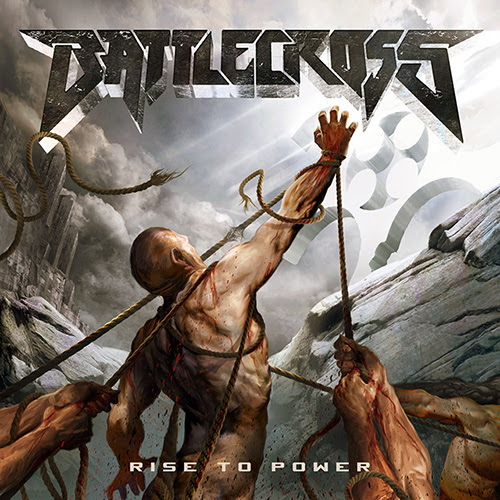 New Album "Rise To Power" out August 21st on Metal Blade Records
Motor City thrashers BATTLECROSS are currently out on the road with Crowbar and Lord Dying on "The Summer of Doom Tour" in support of their forthcoming release "Rise to Power"! The tour has been a career highlight for the band and the legendary sludge metallers Crowbar have really taken a liking to the band.
On tour, fans can pre-order "Rise to Power" at the BATTLECROSS merch booth in the form of a limited edition tour laminate, only available at the merch booth. Each laminate will include a code, redeemable online, for a copy of the album! "Rise to Power" is also available now in special pre-order bundles at metalblade.com/battlecross.
Today the band unleashes another scorching track from "Rise To Power". Loudwire is exclusively premiering the song entitled "Spoiled". Get your first listen to the track HERE.
Guitarist Tony Asta spoke about the track:
""Spoiled" kicks in with a heavy rockin old-school vibe and progresses into a brutal more technical feel. It's also a really fun song to jam. The subject matter and lyrics of "Spoiled" were inspired by the dependency on modern technology, more specifically the cyber world. An entire generation thrives from its use but does not know what it was like before the internet existed. It IS a great tool, although the magnitude of its impact on our everyday lives sometimes gives me the chills. This is the only song I had a hand in writing lyrics for and you can thank the "phone-gazing zombies" for it."
Additionally the first song from "Rise to Power", "Not Your Slave", is streaming atmetalblade.com/battlecross. "Rise to Power" will be released worldwide on Metal Blade Records on August 21st, 2015. The record was produced by Jason Suecof, and mixed/mastered by Mark Lewis at Audiohammer Studios. Cover art was completed by Hungarian artist Péter Sallai (Sabaton, Sacred Steel).
The Summer of Doom is the first tour for BATTLECROSS since finishing the production for "Rise to Power", their third Metal Blade release. The tour also puts an end to the band's search for a permanent drummer, with bay area's Alex Bent now firmly in place behind the kit. After performing with the band on two 2014 headliners and in South America, Alex officially joined and tracked drums for the new album.
BATTLECROSS will also appear at the 2015 Heavy MTL in Montreal on August 8th.
"Rise to Power" Track Listing:
1. Scars
2. Not Your Slave
3. Absence
4. Spoiled
5. The Climb
6. Blood & Lies
7. Bound by Fear
8. Despised
9. Shackles
10. The Path
BATTLECROSS
Tour w/ Crowbar, Lord Dying
06/29 Brooklyn, NY Saint Vitus
06/30 Frederick, MD Cafe 611
07/01 West Columbia, SC New Brookland Tavern
07/02 Atlanta, GA The Masquerade
07/03 Baton Rouge, LA Varsity Theatre
End Tour
08/08 Montreal, QC Heavy MTL
CD Release Shows
08/21 Westland, MI Token Lounge
08/22 Chicago, IL Reggies
08/23 Kokomo, IN Center Stage
08/24 Cleveland, OH Agora Ballroom
Tour w/ GWAR, Butcher Babies
08/25 Millvale, PA Mr. Smalls Theatre
08/27 Des Moines, IA Wooly's
08/28 Lincoln, NE Bourbon Theatre
08/29 Wichita, KS Lizards Lounge*
08/30 Lawrence, KS Granada
08/31 Tulsa, OK Cain's Ballroom
09/01 San Antonio, TX Alamo City Music Hall
09/02 Baton Rouge, LA Varsity Theatre
09/03 Mobile, AL Soul Kitchen
09/04 Birmingham, AL Iron City
09/05 Spartanburg, SC Ground Zero*
09/06 Winston-Salem, NC Ziggys
09/08 Wilmington, NC Ziggys By The Sea
09/09 Jacksonville, FL Freebird Live
09/10 Chattanooga, TN Track 29
09/11 Sauget, IL Pop's
09/13 Clifton, NJ Dingbatz*
09/14 Poughkeepsie, NY The Chance
09/15 So. Burlington, VT Higher Ground
09/16 Reading, PA Reverb
09/17 Huntington, NY The Paramount
09/18 Rochester, NY Water Street Music Hall
*Off Date – BATTLECROSS Headline Show*
BATTLECROSS' previous album, "War of Will," debuted at #134 on the Billboard Top 200 chart upon its release in July of 2013. This was the band's first ever Billboard chart debut! "War of Will" also peaked at #3 on the US iTunes metal chart on the day of release. Watch the music video for "Never Coming Back" now at metalblade.com/battlecross.