Legendary progressive metal act Fates Warning celebrated the 30th anniversary of their third album, Awaken the Guardian, in 2016. To celebrate this milestone, Jim Matheos (guitar) reassembled the Awaken the Guardian-era lineup for two special festival appearances last year: Keep it True XIX and Prog Power USA XVII. Fortunately for fans that were not able to attend, each show was filmed and recorded in its entirety for the upcoming DVD/Blu-ray out April 28th via Metal Blade Records, Awaken the Guardian Live!


For a preview of this release, a video for "Fata Morgana" from Keep it True XIX can be viewed at Metal Blade – where Awaken the Guardian Live can also be pre-ordered in the following formats: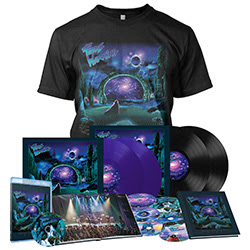 –Deluxe Edition Artbook (52 pages, 4-CD, DVD, Blu-ray – limited to 2000 copies)
–2CD + DVD Digipak
–Blu-ray (USA exclusive)
–180g black vinyl
–indigo blue vinyl (limited to 300 copies – EU exclusive)
–turquois green vinyl (limited to 200 copies – EU exclusive)
–purple vinyl (limited to 300 copies – USA exclusive)
*exclusive bundles with a shirt, plus digital options are also available!
Directed and edited by Oliver "Bomber" Barth, the Keep It True XIX footage was recorded on April 30th, 2016 in Lauda-Konigshofen, Germany; the Prog Power USA footage was recorded on September 9th, 2016 in Atlanta, GA with sound recording and video editing by Kent Smith, plus audio and video recording services provided by Lucid Lounge Studios – Atlanta. Mixed and mastered by Bill Metoyer at SkullSeven Studio in North Hollywood, CA, Awaken the Guardian Live also features art direction, design, and artwork by Ioannis (dangerousage.com), making this a must-have piece for any fan's collection. Awaken the Guardian vocalist John Arch comments about the experience: "It was truly a surreal experience being able to share the spirit of 'Awaken The Guardian' at these shows. We would like to take this opportunity to thank all the fans that have given back so much over the 30 year span since the album's release. To all our family and friends, much gratitude."